Color is an easy, relatively inexpensive, and sometimes dramatic way to change a room's personality.  When it's time to paint your kitchen you can't go wrong with classic colors like white, beige, or similar neutral tones.  However, if playing it safe isn't your style then you might want to consider diving into more vivid colors to bump up your kitchen's character quickly. From a vibrant orange to a soothing blue or even a glowing yellow, the options are endless.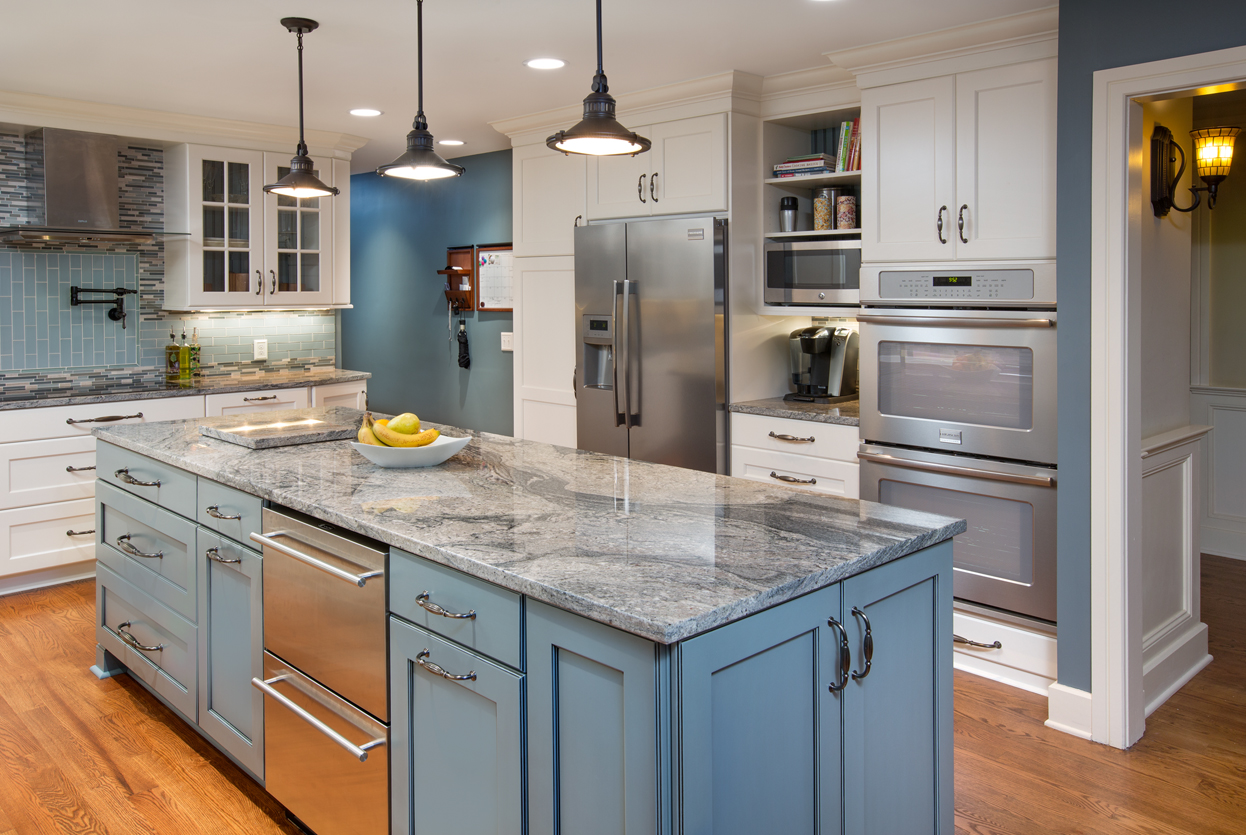 Feeling A Little Blue: Adding a blue tone to your kitchen will add a tranquil vibe to the room. The color blue helps to focus on what's most important in life, which is an excellent tone for the kitchen where your family likely spends the most time.  The look can be subtle with accents in bold blue canisters or the look can be more intense with deep blue cabinets or even robin egg blue appliances!
Go Green: For those who love nature, green is a perfect choice, as it is the primary color found in nature.  Green represents fresh starts and growth.  What better place to start fresh than in the kitchen!  A sage green cabinet can be a great choice for those who want to add a subtle, serene green that meshes well with neutral countertops.  Another choice would be to use bold green dishware visible through glass panel cabinets. 
Orange Is Not Just For Juice: See the brighter things in life by adding hints of orange throughout your kitchen.  Rather than shocking your guests with orange cabinets or walls, consider adding splashes of orange at the back of cabinets to show through glass panel doors or consider bold orange accessories like flower pots, dishes, or small appliances.  Contrastingly, burnt orange cabinets can bring warmth and richness to your kitchen.
Let The Sun Shine: Brighten everyone's day with a yellow palette in the kitchen.  This color helps to dispel darkness and is associated with energy and joy.  Everyone needs a little energy and joy, especially with breakfast in the morning!  A pale yellow shade on your kitchen walls will mimic candlelight and give them a soft glow.  Another added bonus: yellow is believed to make people feel hungry and calm.
Gray Is The New Neutral: Gone are the days of taupe and beige.  Gray has taken over as the go-to neutral throughout the home.  Gray is an especially good choice in the kitchen because it provides a great backdrop to contrast with a wide variety of cabinet and countertop colors.  It pops beautifully with white and also blends effortlessly with darker cabinets.  Consider a gray quartz countertop for a polished look as well.
Do not fear color in your kitchen, embrace it!  Color can help you to express personality in your kitchen space and can also set the stage for an energetic morning or a calming evening.  The certified designers at Kitchen Kraft can help you to decide which color(s) will work best in your new kitchen space.  Let's put a little pizazz into the heart of your home with a brush of color! Call us today to talk colors and much more: (614) 449-7200.